A new JEOL 1400 Flash Transmission Electron Microscope (TEM) will be coming to the Center for Advanced (CAM) in the next few months. This new TEM will replace the JEOL 100CX TEM that has served MSU researchers for the past 34 years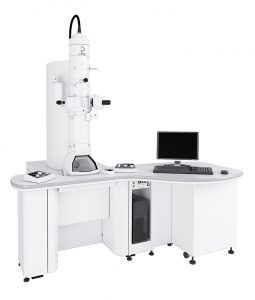 The new JEOL 1400 Flash is at the cutting edge of technology with some very exciting and useful features.
The microscope will be equipped with a newly developed Matataki Flash sCMOS camera that dramatically reduces readout noise (less than 0.9 electrons) while maintaining an extremely high frame rate of 30 frames per second. The camera facilitates another feature, the automated Limitless Panorama Function (automated stitching) that can cover a wide area with no limitation on the number of pixels.
In addition, the microscope has an Optical Microscope Correlation function in which an image from an optical microscope can be imported and overlaid on a TEM image to facilitate correlative microscopy.
The microscope has an easy to use intuitive user interface that should facilitate teaching in NSC-810 and research use.
The lattice resolution is excellent, 0.2 nm using a High Contrast Pole Piece! This resolution will provide outstanding results on all biological samples and will be useful for many physical science TEM users.
The microscope will be equipped with a four grid holder, and all sample holders will be interchangeable between the JEOL 1400 and the other TEM at CAM, the JEOL 2200FS. The stage on the new TEM will be capable of plus or minus 70 degree tilts.
This new microscope represents a major advancement in the TEM capabilities at the Center for Advanced Microscopy and will benefit many MSU researchers and numerous off-campus users.